About
Located on a quiet triangle in the historic West Village; set back from the bustle of 7 th Avenue at the crossing of Morton and Bedford Streets. Click here for Directions.
Serving soulful Greek food carefully blended with a West Village vibe, Snack Taverna is a warm and welcoming space that features high tin ceilings, exposed brick walls and oversized windows. Since opening in 2003, Honest, good food and friendly, professional service have defined the "ethos" of our restaurant.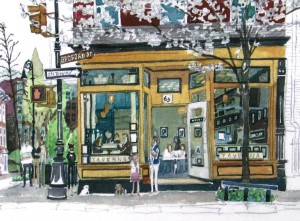 FOOD
Our kitchen serves up a bold flavored mix of traditional, home-style and modern interpretative Greek cooking throughout the day.
Enjoy interesting signature dishes while sipping local favorite Jack's coffee over a relaxed and sunny Breakfast or flavorful twists on classic salads, sandwiches and savory pie during Lunch and Brunch.
Dinner brings soft lighting, an array of small plates, oven roasted lamb and whole fish as well as seasonally inspired daily menu additions.
BEV
The wine program consists of hard to find artisanal Greek wines that balance and enhance our full flavored dishes. Snack Taverna also offers a small selection of Greek beers as well as a list of seasonally inspired cocktails .
Snack Taverna seats up to 45 guests comfortably and 4 at the bar.
We welcome private events and off-site catering.